Scientifically, Peritonsillar Abscess is a collection of pus that surrounds the tonsils. It is a painful infection that can spread between the throat's underlying muscles and tonsil. If you don't treat the throat condition in a timely manner, the infection would grow from being a pocket of pus to an abscess. There are several different episodes of Peritonsillar Abscess. The infection is caused by a group of micro organisms called Streptococci. The bacterium inflects the mouth and acts as the prime cause of Peritonsillar Abscess. Individuals, who were once affected by chronic tonsillitis or Peritonsillar Abscess, will have a better chance of being infected by the disease once again. Luckily, the risk of Peritonsillar Abscess is very low in young kids.
Permanent Cure From Peritonsillar Abscess
The only reliable remedy against Peritonsillar Abscess is to remove your tonsils permanently. Even patients who are treated using powerful antibiotics are prone to be infected by the throat condition. Initially, you would develop sore throat and the infection will last for several days. If the infection lasts for more than 3 days, it is not likely to be a viral sore throat. Thus, you should approach a healthcare service provider and examine your health condition. The physician will state if you are affected by Peritonsillar Abscess or not.
Diagnosing Peritonsillar Abscess
Generally, the throat infection is diagnosed strategically. First of all, the doctor will check your medical history. Moving on, a physical examination will be carried out. The healthcare provider would extract pus from your throat region and opt for lab tests. In very rare cases, a CT Scan will be done to analyze the throat condition.
Why should you treat the infection immediately?
Peritonsillar Abscess is a fatal disease that should be treated as soon as possible. Here are few long term effects of the oral infection:
1) The infection may spread to your neck region. Conversely, it may affect many important nerves, veins and arteries.
2) As time passes, the micro organisms will erode the walls of your jugular vein and carotid artery. This may result in life threatening bleeding.
3) Peritonsillar Abscess can cause clotting in many important parts of the body. And, these clots can spread rapidly throughout the entire body. As a result, pockets of pus may form in the lungs.
Peritonsillar Abscess is Contagious!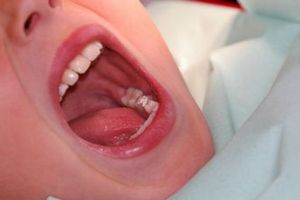 Do you know that Peritonsillar Abscess is slightly contagious? The infection can spread through nasal discharges and saliva. This will increase the risks of Peritonsillar Abscess in other individuals too! If you are caught up with Peritonsillar Abscess, you must opt for medical cure immediately. Oral corticosteroids will mask the rate at which the infection spreads. If the infection reaches the abscess stage, you can manage it easily. There are plenty of pain medications and oral antibiotics to drain the pockets of pus. According to healthcare providers, this is one of the most time honoured and widely used treatments against Peritonsillar Abscess. The minor surgery is usually carried out in the doctor's room!